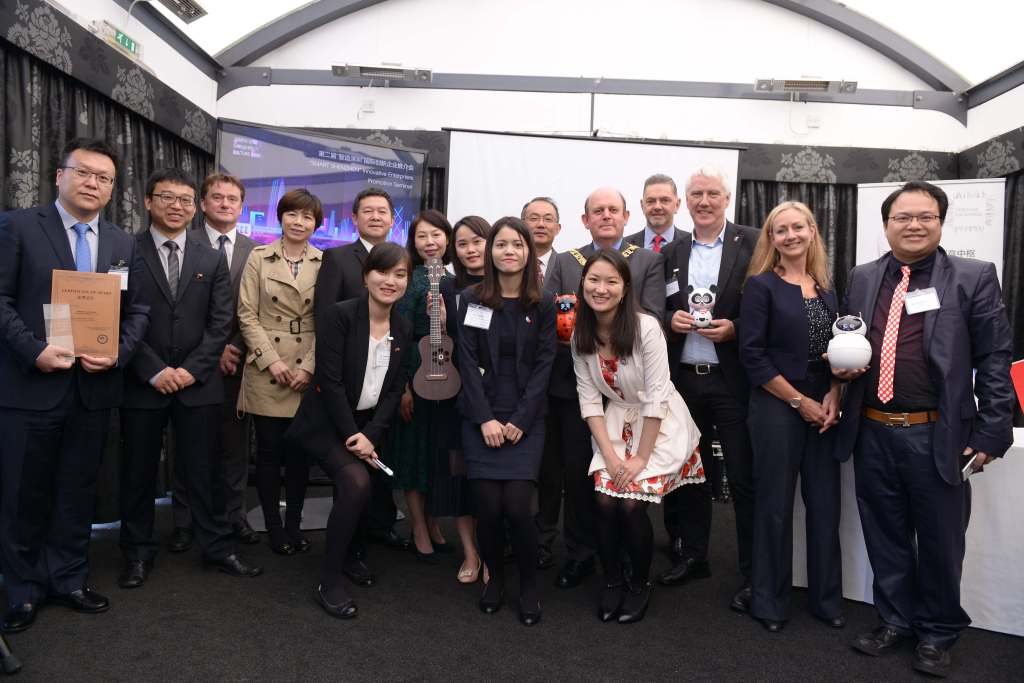 The forging of ever-closer ties between Edinburgh and China's 'Silicon Valley' continued this week with the visit of a high-profile delegation of business and civic leaders from Shenzhen.
More than 30 delegates from the city, located in the south of China, took part in a joint Shenzhen-Edinburgh business summit at the rooftop garden of The Glasshouse Hotel on Monday.
The event was a showcase for some of Shenzhen's leading tech and creative industries companies, which have been the focus of a four-year long 'creative exchange' between the two cities.
It was an opportunity for a new memorandum of understanding to be signed between Shenzhen Creative Investment Group (SCIG) and the Doctorate Association. This partnership is designed to make it easier for doctorate-level graduates in both Edinburgh and Shenzhen to mutually benefit from knowledge exchange with investment into innovation programmes. And the event also shone a spotlight on three Chinese tech companies aiming to break into the Scottish market with their products. The firms had been selected for the trip after winning the second 'Create in Edinburgh' competition and have had their products go on display all this week at Ocean Terminal shopping centre in Leith.
Lord Provost Frank Ross opened proceedings officially as Edinburgh's civic head, welcoming the Chinese delegation to the city. His keynote speech marked the opening of Shenzhen's Cultural Week, which began on Monday. As part of that celebration, the Cantonese Opera will be performing their interpretation of Shakespeare's play MacBeth at the Edinburgh Fringe Festival, along with Chinese music show 'New City, New Sound, which combines traditional Chinese instruments and modern pop music.
Cllr Ross said: "From the Edinburgh-Shenzhen Memorandum of Understanding (MOU) in 2013 and my own first trip to Shenzhen back in 2014 I'm encouraged by the progress and joint achievement between both cities. In the last two years alone we have welcomed over 12 Shenzhen companies to Edinburgh and have taken a further 20 Edinburgh to explore the Shenzhen market; furthermore, we opened creative and tech incubators in both cities during 2015 as part of our pioneering project."
He added: "We've welcomed the Mayor of Shenzhen to Edinburgh in 2016 and have witnessed a significant number of spin-offs. One example of these successful collaborations can be found through the Life Sciences agenda and the advancement of a project between Edinburgh University, the University of Shenzhen and the Shenzhen's people's hospital, the ultimate goal of which is to create an international diabetes centre of excellence in Shenzhen and build on the research expertise from both cities."
Cllr Ross spoke of Edinburgh City Council's intention to give Shenzhen companies the "best-tailored support" for their time in the city, where they have been occasionally based at the creative industries incubator the Creative Exchange. Likewise, Edinburgh companies have periodically travelled to Shenzhen to experience the F518 Idea Land creative cluster incubator space in Shenzhen, which has reciprocated with a hub-style work space.
The story of the "sister" relationship between the two cities began formally in 2013 with the MOU but has gone through several phases of development since. The intention was to create a knowledge exchange between Edinburgh's burgeoning tech and creative industries and that of Shenzhen, which has grown rapidly from a 'factory economy' to one hosting advanced manufacturing, robotics, artificial intelligence, computing and life sciences.
The city itself, which is close to Hong Kong, is a remarkable testimony to the central planning of the Chinese Government. Just 38 years ago Shenzhen was a sleepy fishing village and now, thanks to a manufacturing boom and huge migration, it is now home to up to 20 million people, spread across multiple districts. Bao'an is the district directly involved in the partnership with Edinburgh, by virtue of its hosting of the incubator space, and it was this administrative area's officials who travelled to the event along with the most senior official of the delegation, Miss Chai Fengchun, Deputy Director General, Shenzhen Municipal Administration of Culture, Sports and Tourism, who spoke of her desire to "create a better future with collaboration between the two cities".
She said: "In order to boost cultural and commercial cooperation between Shenzhen and Edinburgh we encourage and support investment and opportunities for both cities [to enter] into new markets."
As well as the civic partnership between the two cities, academic institutions and business are also playing a part in stimulating commercial opportunities for the cities. In October last year the Edinburgh-based tech investor event, EIE, developed by Informatics Ventures, took 11 Edinburgh tech companies to Shenzhen to present their products to potential investors.
In May this year, three Edinburgh companies were represented at the International Culture Industries Fair in Shenzhen, including Edinburgh's film-maker Freakworks, the animation company Speech Graphics and Sainted Media, all of which have "continued to pursue the Shenzhen opportunity offered through our unique partnership", according to Cllr Ross.
One of the biggest successes, though, has been the indoor location software company Sensewhere, which travelled to Shenzhen in 2015 and has since secured investment from Tencent, the world's fifth largest company by revenue, based in Shenzhen.
Cllr Ross added: "This is just one example of the opportunity and the success which is possible through the collaboration between our great cities."
Tech focus
The three companies who were selected as the winners of the second Create in Edinburgh Awards offered up 'smart' products which aimed to revolutionise the way people learn guitar, teach children with learning difficulties and allow those with a penchant for nice jewellery to track their health and fitness.
They all spoke of their enthusiasm for doing business in Scotland but one of the key barriers they face, especially for the marketing of high-tech, high-value products, is the different set of cultural norms: establishing links with trusted retailers in overseas markets was, for them, hard to navigate terrain, much less the development of the products themselves.
1. Focusing on game-based guitar learning, Poputar (owned by Shenzhen Shigan culture technology Co.,Ltd) aims to make learning how to play guitar 'fun and efficient' through technology and game. The company raised its first round of investment from
ZhenFund in China in 2015 and raised the pre A round investment in 2017. This year, the company won the RedDot award and iF award, two world renowned product design awards. The company has also developed the Ukulele learning product along the original guitar learning product. The firm's HR director, Lin Qiuqing, entertained the audience with a rendition of Auld Lang Syne (in Chinese and English) as she demonstrated the product, which uses sophisticated software to light up the chords in the correct order they need to be played.
2. Snowbot, developed by Shenzhen Lubo Tech Co. Ltd is an edutainment product for the 4-10 years old. The co-founders of the company are from large tech companies such as Nokia, Microsoft and Sony with years of AI development experience. Snowbot shares a close bond with children through action, programming, emotion, expression and voice. The company is currently in the crowdfunding stage and in the long-term, they also plan to develop AI product for the elderly. The robot works by showing children, especially those with developmental conditions such as autism, how to respond to emotional cues.
3. MetaGem is a Shenzhen-based international company focusing on the development of wearable technology. The company produces high-quality smart gem products named MetaGem for jewellery and fashion designers to integrate technology into their fashion brand to create amazing digital fashion products.
MetaGem provides a range of customised products and services including lose gem, finished fashion products, software support, after-sales support and they also aim to provide big data services in the future.
Author: Kevin O'Sullivan
More information:https://futurescot.com/innovation-partnership-signed-edinburgh-shenzhen-forge-ever-closer-links/